Exploration einer neuen Dimension
Sehen Sie, wie Microsoft® HoloLens 2 Hands-on Training und Zusammenarbeit durch ein Augmented Reality Headset ermöglicht.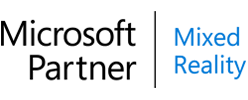 Zukunftsweisende Enterprise Lösungen
Als Microsoft Mixed Reality Partner schafft Insights Digital Innovation Team Mixed Reality Erlebnisse, die Kunden dabei unterstützen, den Herausforderungen ihres Unternehmens auf eine revolutionär andere Art und Weise zu begegnen.
Die Zukunft des Arbeitens
Die HoloLens 2 besticht in ihrer bahnbrechenden Kombination aus Hardware, Mixed Reality und Künstlicher Intelligenz (KI) und hebt Ihre Produktivität auf ein gänzlich neues Niveau.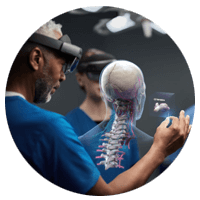 Immersives Erleben
Kabellose, gänzlich mobile Hardware und ein großes, hochauflösendes Display geben Ihnen ein umfassendes Bild Ihrer Umgebung.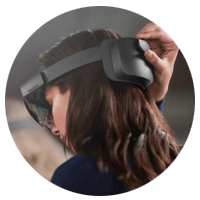 Hoher Tragekomfort
Das Headset ist für optimalen Tragekomfort und minimale Augenermüdung bei mehrstündiger, ununterbrochener Nutzung konzipiert.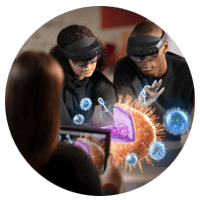 Intuitives Arbeiten
Nutzerfreundliche Sprach- und Handbefehle sorgen für eine nahtlose Interaktion mit Ihrer Umgebung.
Trotzen Sie räumlichen Limitationen..
Die HoloLens 2 wertet nicht nur Ihr unmittelbares Arbeitsumfeld auf — sie ermöglicht Zusammenarbeit über Standorte hinweg. Dynamics 365® Remote Assist ermöglicht das freihändige Teilen visueller Daten, so dass Fragestellungen schnell und gemeinsam erörtert werden können.
Das einfache Bereitstellen der Applikation sowie automatische Updates und robuste Sicherheitsfeatures ermöglichen einen unterbrechungsfreien Weg zu virtueller Zusammenarbeit. Zudem ist es kompatibel mit viel genutzten Microsoft Apps wie OneDrive®, Power BI® und Dynamics 365 for Field Service.
Erweitern Sie Ihre KI Fähigkeiten.
Die Technologie hinter der HoloLens liefert Transformation auch jenseits des Headsets. Das Azure® Kinect® Development Kit vereint hochperformante Sensoren, eine Videokamera sowie ein Mikrofon-Array in einem kompakten, vielseitigen Endgerät.
Das kleine Paket enthält großartige Features, die Entwickler verwenden können, um KI Lösungen zu entwickeln – von der Automatisierung von Inventurprozessen bis hin zur Eliminierung von Arbeitsplatzgefahren. Und dank eleganter Integration mit Azure Cognitive Services und Azure Machine Learning ist Ihr System einfach zu optimieren und skalieren.
Note: Expressions of interest for HoloLens 2 pre-orders are currently only being collected for the U.S., France, Germany, Ireland and the United Kingdom. HoloLens 2 has not been authorised yet under U.S. Federal Communications Commission (FCC) rules or Directive 2014/53/EU. Actual sale and delivery of HoloLens is contingent on device compliance with applicable FCC and Directive 2014/53/EU requirements.
Bietet Microsoft die richtige Lösung für Sie?
Weitere Informationen zu Microsoft Produkten und Services erhalten Sie von unserem Microsoft Experten-Team.